High Halstow Parish Council
Proposed HH Expansion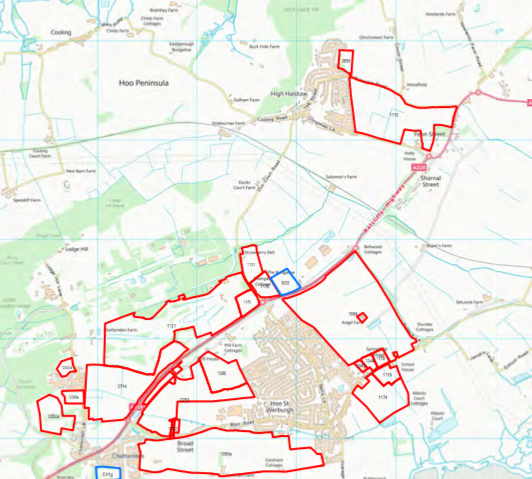 Walnut Tree Farm – Redrow Planning Application for 68 homes
Redrow have now applied for planning permission, having changed the original plan. The application can be found on the Planning Tracker on the home page.
Land at Cooling Road – planning application for 6 homes.
Further information can be found on the Planning Tracker on the home page.
Update on Medway Council's Local Plan
Medway Council have now provided an update regarding the proposed Local Plan. The Local Plan is the development plan for the area, and will provide a strategic framework to guide Medway's growth up to 2035. The plan will identify sites and locations for development in line with the projected levels of growth, areas for protection and planning policies to achieve the ambitions set for Medway. The development plan forms part of the council's policy framework.
The figure of 29,500 new homes required has now been increased to 37,000 new homes:
"In September 2017, the government consulted on a number of proposed changes to the Planning system in "The Right Homes in the Right Places". This included the proposal to introduce a standard method of calculating local housing need. This would result in a significant increase in the number of houses needed in Medway, from 1283 a year to 1665. This would mean that the council will need to find land for c8000 more homes in the new Local Plan, over and above the already challenging figure of 29,500 homes.
The council has responded robustly to the consultation, and has strong concerns that the area does not have the infrastructure or environmental capacity to accommodate such a scale of growth sustainability. The impacts of such scale of growth will be further considered in the Sustainability Assessment accompanying the next stage of the Local Plan consultation."
Responses to Medway Council Consultation on the proposals for Local Plan
331 general responses
11,681 objections made in specific reference to Lodge Hill
519 responses regarding relocation of Gillingham Football Club
650 people attended the exhibitions organised by Planning Services