Footpaths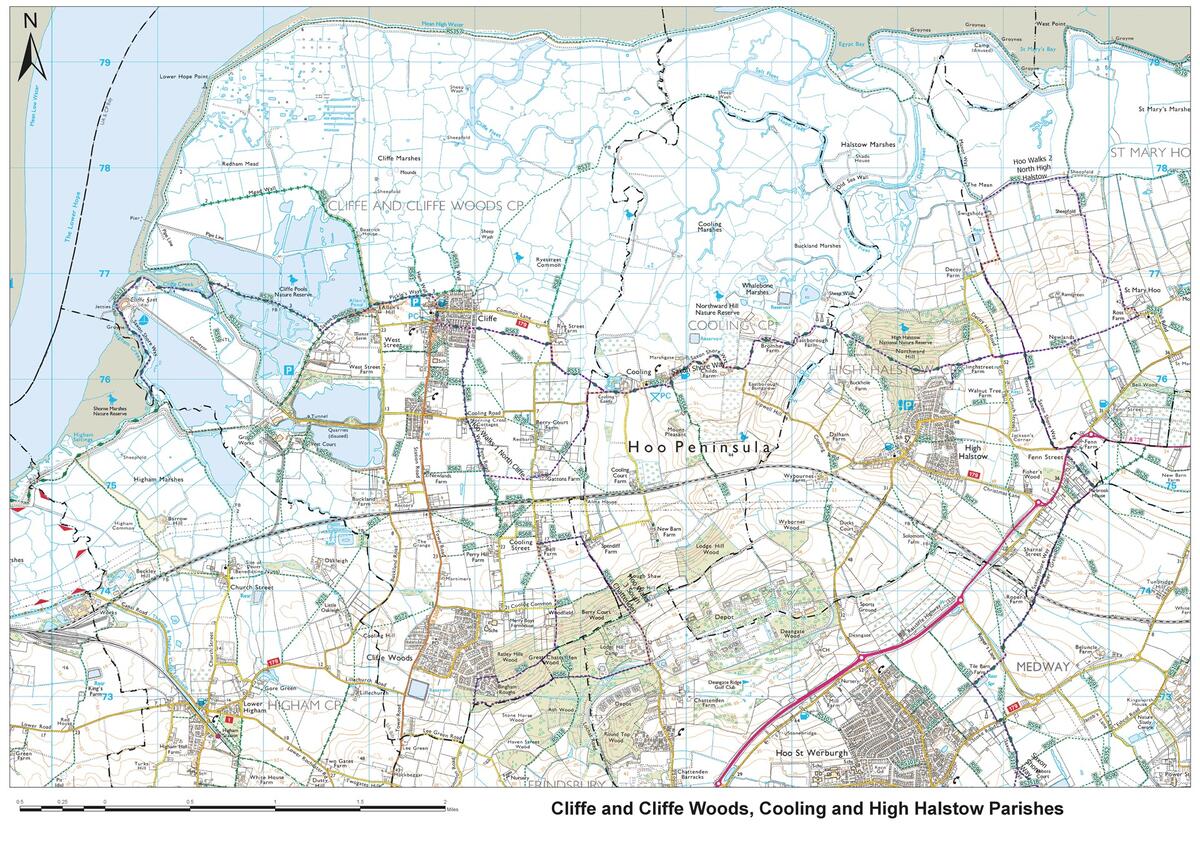 The village of High Halstow is host to a very scenic section of the Saxon Shore Way. Walkers will delight in the deciduous woodlands and the panoramic views of The Thames acting as a backdrop to the Halstow Marshes Although fiercely protected by by-laws and statutes, the footpaths that meander through the parish are now for the enjoyment of man and his dog. Not so a brief 50 years ago, before the onslaught of the motor car, when each path ended in a designated place of employment for farm workers, shepherds and fishermen.
There are many footpaths to enjoy in and around High Halstow, many of these are official rights of way but there are also a number of popular trails on common land. Villagers and visitors alike are most fortunate to have access to the RSPB Northward Hill Reserve. With the exception of RS50, all paths are accessible to the public by kind permission of the RSPB who maintain these paths. Entry is strictly forbidden to the Sanctuary area, however, except with express permission from the Warden.
Each season brings its own delights together with a few drawbacks. Spring sees carpets of bluebells and garlic-mustard, patches of violets too but sadly, more rarely now, the humble primrose. The song of the nightingale on a spring night evening is enchanting. On the downside, the paths tend to get quite muddy, despite the fact that the RSPB widened some of them. Suitable footwear is advisable.
During the summer it is pleasant to sit on the lawn area of the wood and admire the oaks, butterflies and birdsong. Walkers are grateful to the public-spirited villagers who collect the rubbish left by the mindless. Nature, at its most rampant, results in nettles and brambles constantly trying to invade the walkways. Take a stick, if attempting more inaccessible paths. Remember to always adhere to the pathways, thus encouraging the birds to nest in the public area of the wood. Visually, autumn is undoubtedly the most beautiful. The common Field Maple, insignificant during the rest of the year, erupts in a blaze of yellow. Hips, haws, blackberries and sloes make the ingredients for tasty jams. A myriad of different fungus burst forth, including, unfortunately, the stinkhorn where walkers are advised to hold their breath.